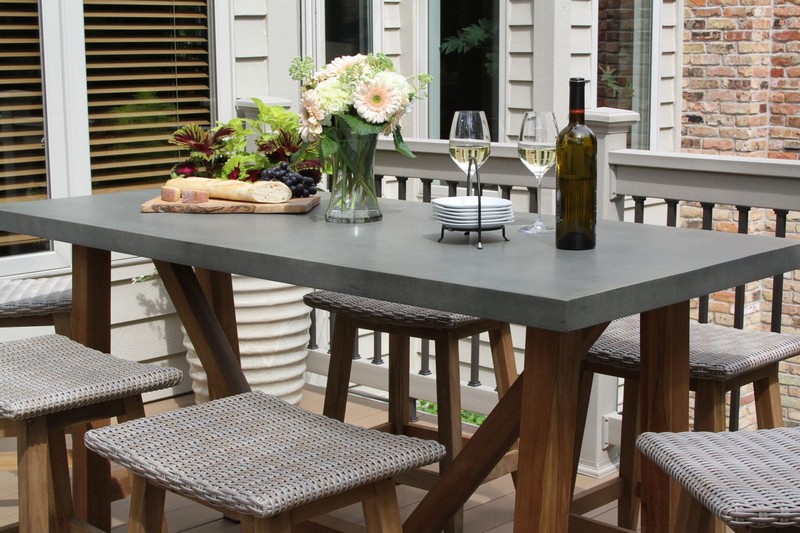 If you're in the market for brand new dining room furniture, chances are you find a counter height dining table along with counter height stools to match. This kind of furniture is a bit taller than the standard dining table and chairs, delivering a more unique look for your dining room.
But, how tall is exactly a counter height table? Does it really suit your dining room needs in some cases? What kind of counter dining table should I buy for my dining room? Well, you may need to answer these questions first before deciding to purchase one.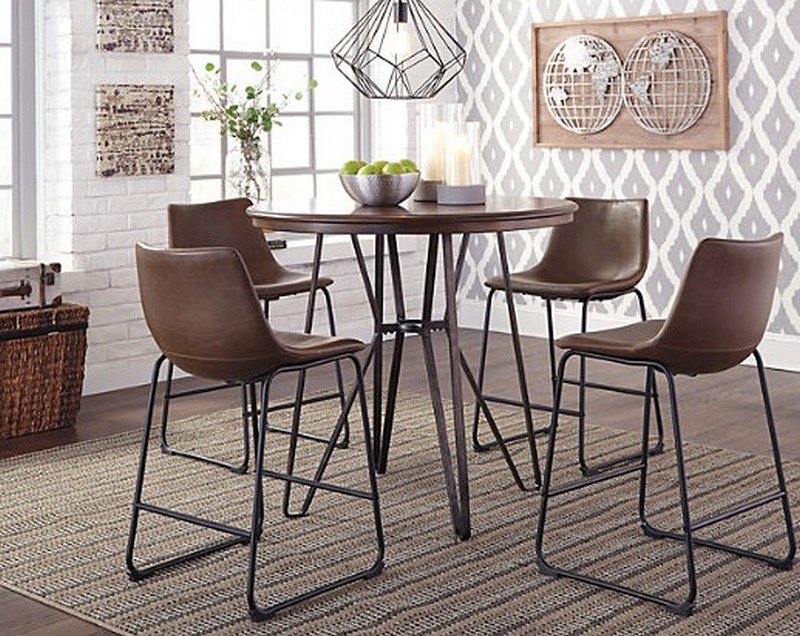 Luckily, you've come to the right site to learn more about a counter height table. This guide will tell everything you need to know before determining a piece of furniture to buy. Plus, you'll find some counter height dining table ideas to choose from too. Without further ado, let's check this out!
What Is Counter Height Dining Table?
First, you need to get an idea of what is counter height table exactly. It's been mentioned above that this type of furniture is taller than the standard tables and chairs in the market. But, how tall it should be to be considered as a counter height table?
If the standard height of a dining table is between 28-30 inches, a counter height table is usually between 40-42 inches high. So, if you want to be a bit high up off the ground, but don't wish to go with a bar table and stools, a counter height dining table is right for you.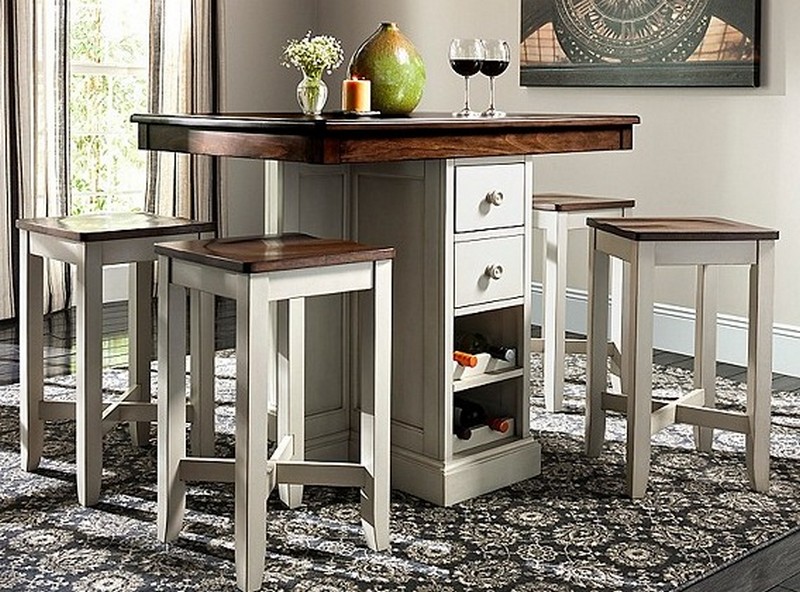 Another thing that makes counter height tables is different from standard tables is the seating to match it. Instead of the standard-height chairs, you'll need to find stools or raised chairs that are a bit higher than standard dining chairs. They should be about 24-27 inches tall.
What Are the Pros and Cons of Counter Height Table?
Then, what are the pros and cons of using a counter height table for your dining room? When selecting a dining table, it's common to learn the pros and cons of your choice as well. Of course, counter height table also comes with some pros and cons. And here are some of them.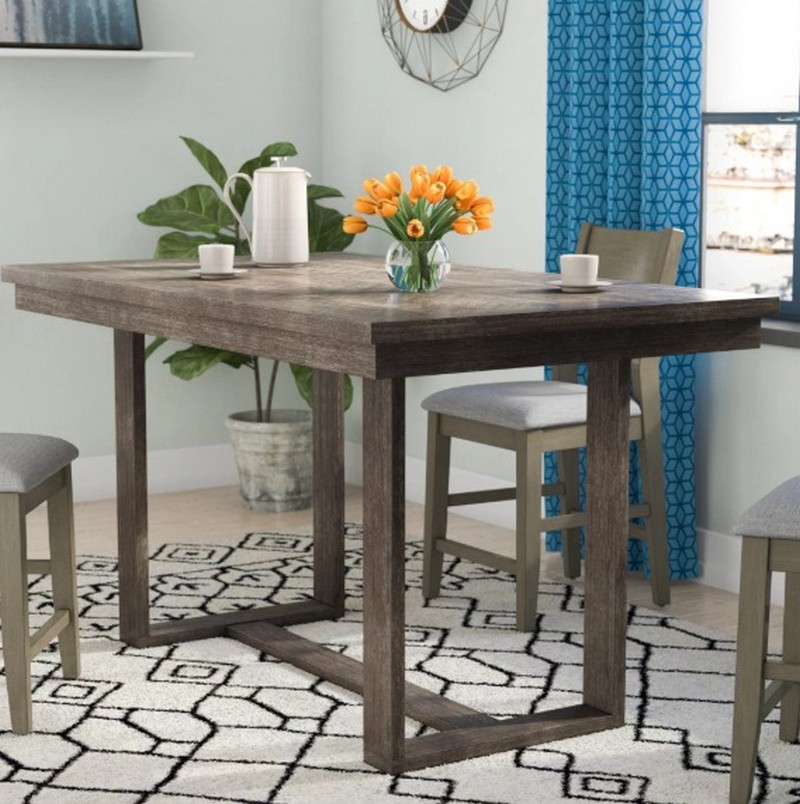 1. The Pros
One of the pros of a counter height dining table is that it's suitable for small spaces. Since it's relatively taller, a counter height table can create an illusion of space around. Plus, some counter height tables are able to be folded into a smaller unit, offering a real space saver for small spaces.
Moreover, this kind of table is able to bring a casual feel in your dining room as well. With a sleek design and a casual feel, a counter height table is perfect for a fun-loving individual. Then, it also allows a better view of your surroundings.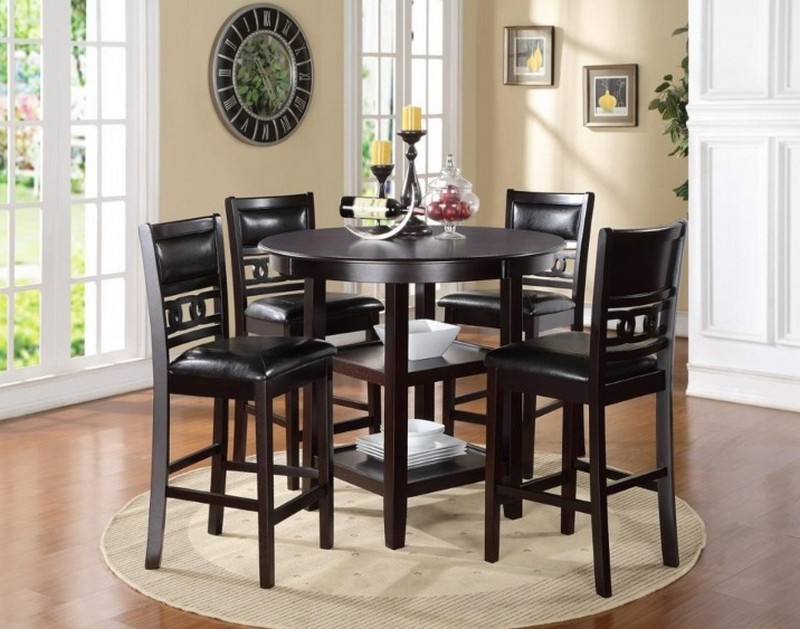 Another good point about this table is that it works best for eat-in kitchens. Counter height table is perfect to easily serve as an extension of your kitchen counter-top. What's more, the height of the stools or chairs makes it more effortless for people to sit and have a conversation on them.
2. The Cons
Next, what are the cons of a counter height dining table? One of the downsides of this table is actually about its popularity. Since many homeowners tend to prefer standard height tables, counter height tables are relatively a new trend in home interior. That's why you may find the options are limited in the market.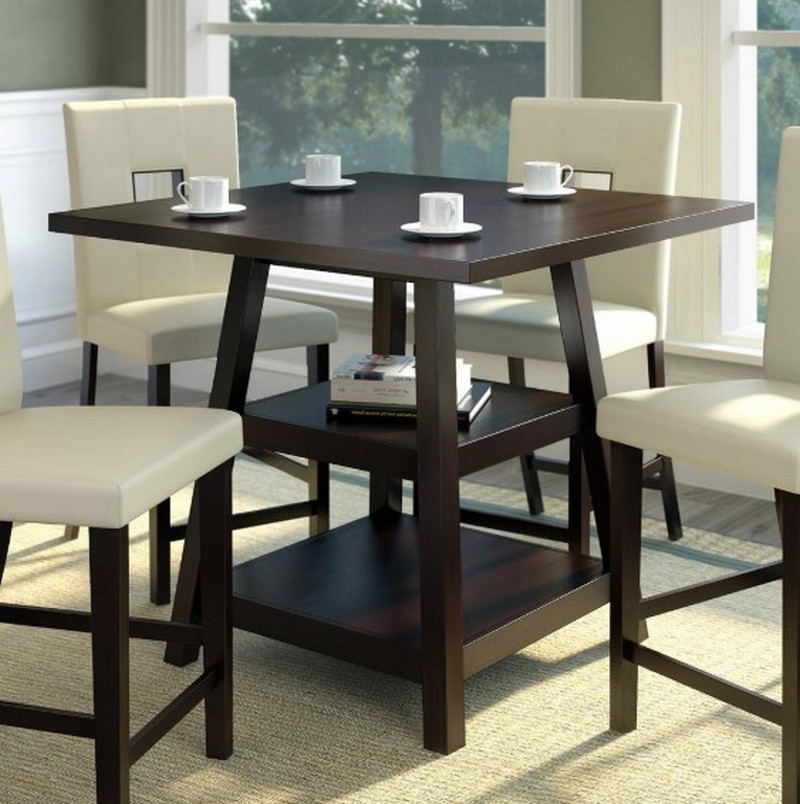 As a result, you may need to get a custom-made table to suit your tastes and home decoration needs. Moreover, a counter height table is not a good choice if there are aged and disabled family members since they may find it hard to sit comfortably.
Then, a counter height table isn't really suitable for kids too. The extra height of this table makes it quite unsafe for young kids. You won't like seeing your kids to barely reach the tabletop when you're not around and end up pulling a bowl of hot soup on the table.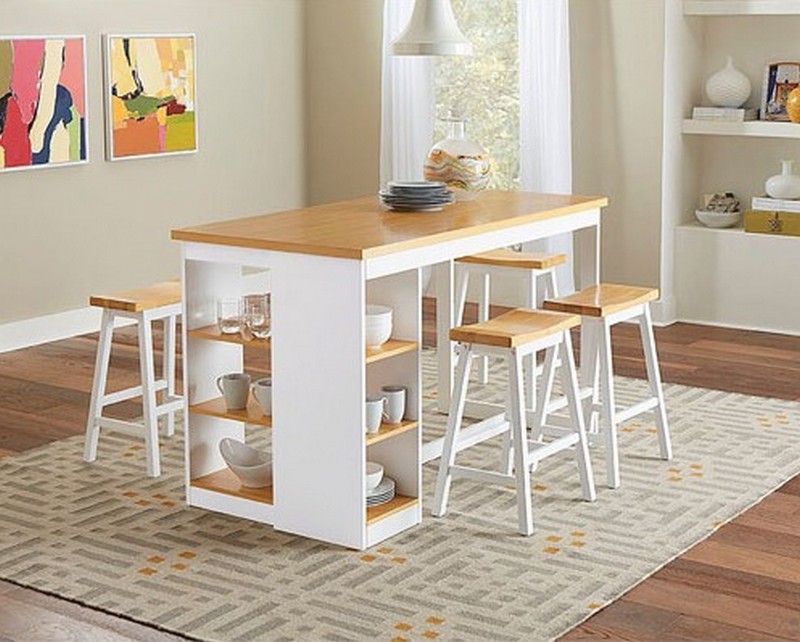 What Are the Best Counter Height Tables for Your Dining Room?
If a counter height dining table is right for you after reading the information above, you may want to know some great options available out there. While it may a bit of challenge to find an off the shelf option out there, you can use these following ideas to get the best one.
Before you feel overwhelmed with the huge number of choices out there, you should focus on the basics! First, measure your dining area and opt for a table that suits the area perfectly. You won't like to choose the one that is too long that you can't fit seating around it.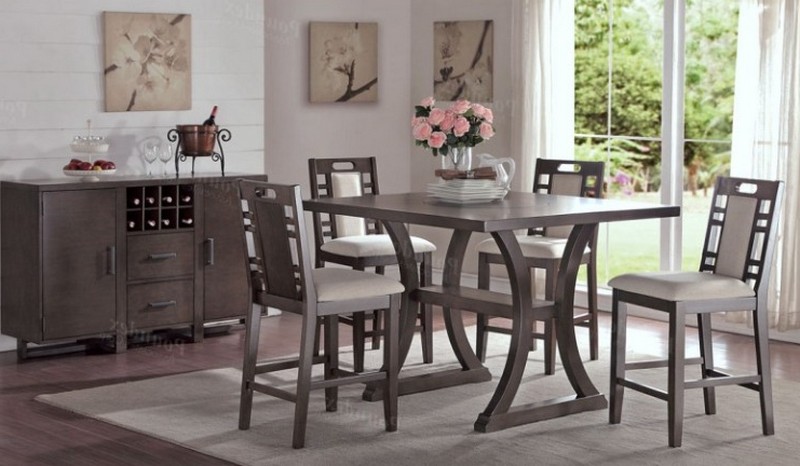 After having some dimensions in mind, consider whether you prefer a matching set or want to buy your table and chairs separately. When you purchase a counter height set, you don't need to worry if the table and tools will match perfectly. However, it'll be different if you choose to buy the table and chairs separately.
At this point, you have to find chairs that match your table and its surrounding.  You also need to consider its color and finish to match your counter height dining table. You can find some ideas on how to decorate your room with a counter height table on the internet for a spark of inspiration.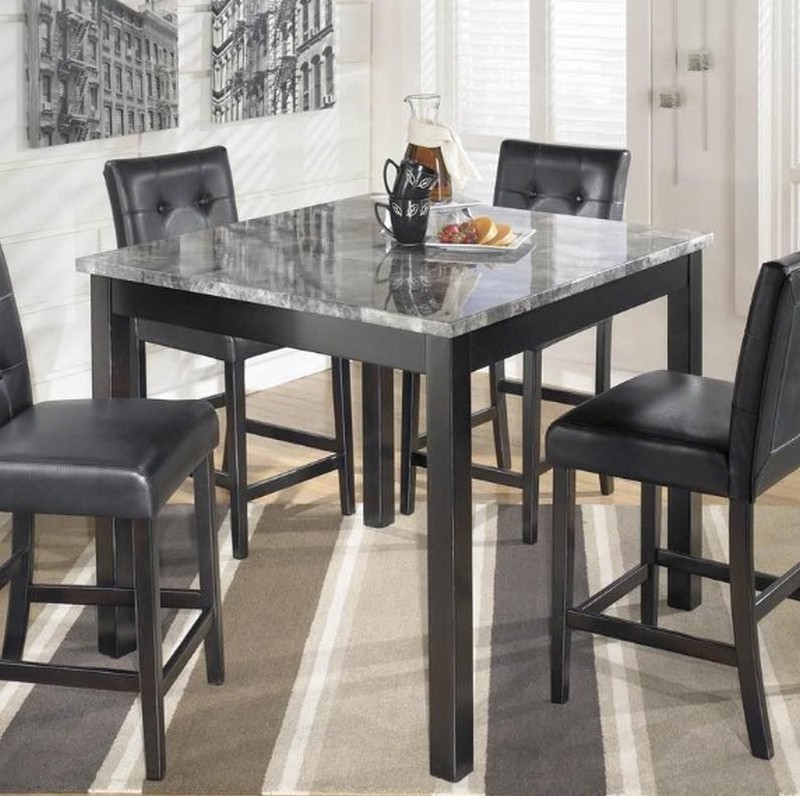 The last, you'll need to choose the shape. Counter height tables are typically round, square, or rectangular. You can choose it based on your dining area's size and shape. If you need a space-saving table for your narrow, square dining room, you can go with a square or round choice one.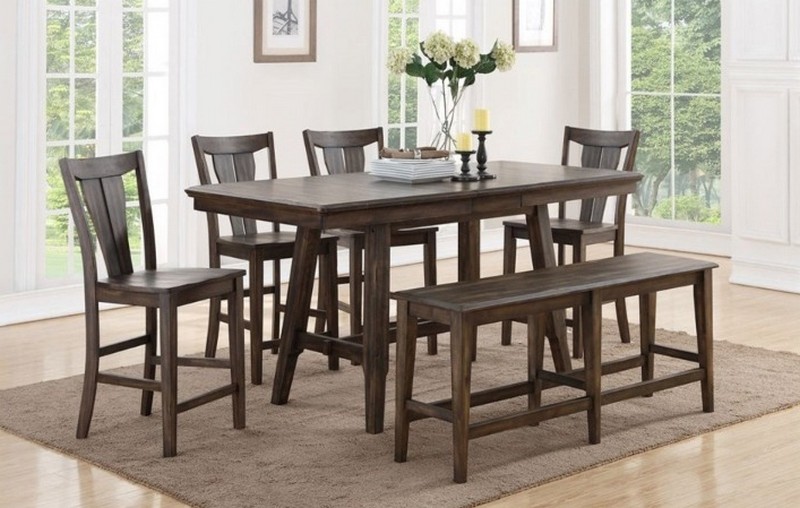 In conclusion, counter height table can be a great choice for your dining room too, especially if there's no aged or young kid in your family. If you want to add a casual feel in your dining room, this table is just right for you. Hope you enjoy this guide to counter height dining table!